February 20th, 2014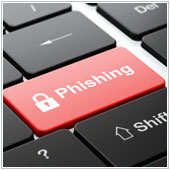 There are numerous ways business security systems can be compromised. A common way is phishing - tricking people into giving up important information via email. Original phishing methods are now well known, and increasingly less effective. So hackers have become more skilled and have adapted their phishing methods into a new form of catching people out with what experts have labeled as spear phishing.
What is spear phishing?
Spear phishing is a specialized type of phishing that instead of targeting a mass number of users, as normal phishing attempts, targets specific individuals or groups of individuals with a commonality e.g., an office.
Read more.